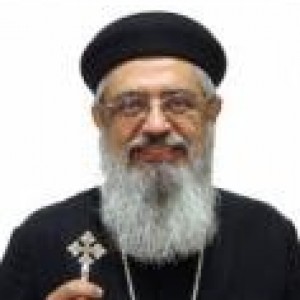 Fr. Paul Megally
Father Paul Megally was born on July 27, 1940.
He earned a Bachelor of Arts in English and Education, and a Master of Arts degree in Education and Psychology in 1965 from Ain Shams University. He worked in Kuwait as a Public Relations Manager for twenty years and was in charge of the Sunday School Program from 1968 to 1987 prior to immigrating to the U.S.
He served at Archangel Michael Church in Santa Ana from 1987-1994 when he was ordained as a priest by H.H. Pope Shenouda III in Cairo on June 19, 1994. He has been serving at St. Peter and St. Paul Church in Santa Monica, California ever since. He also served at St. Demiana Church in Bakersfield from 1995 to 1997. He was ordained as a Hegumen by H.G. Bishop Serapion on January 9, 2005.
---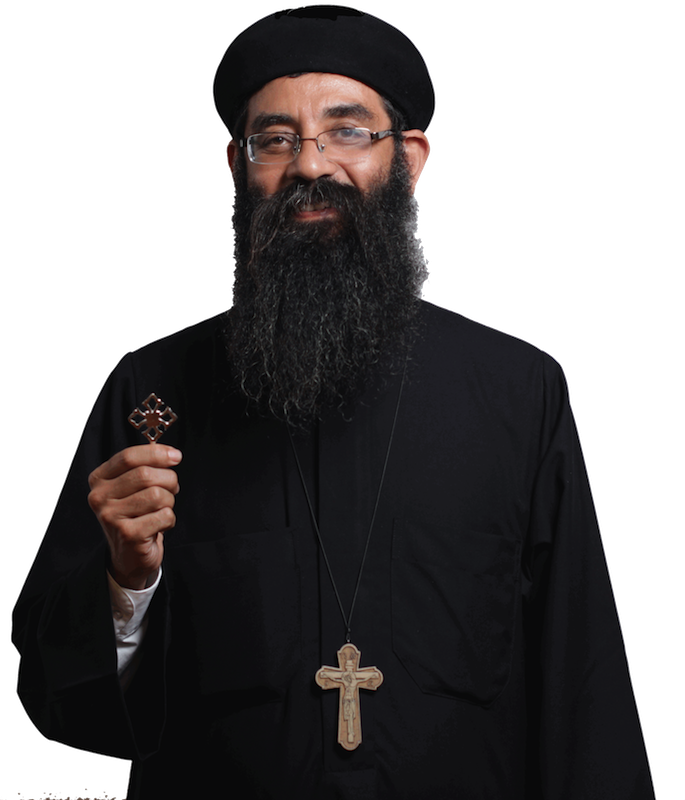 Fr. Isaac Milad Androus
Fr. Isaac Milad Androus was born in Egypt on September 14, 1969. He earned a medical degree from Cairo University in 1993. He worked as primary care physician from 1994 to 2000 and entered an Orthopedic surgery program prior to coming to the United States in 2001.
He was ordained by H.G. Bishop Serapion as a full deacon on August 17, 2003 and presbyter on January 11, 2004.
---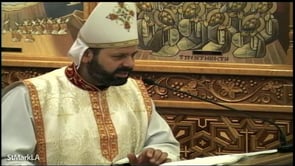 Fr. Mina Ghebrial
Fr. Mina Shoukry Ghebrial was born in Alexandria, Egypt on April 24, 1971. He grew up in Alexandria until 1980 when his family immigrated to the United States. He completed his education in the United States where he received his B.S. in Biology from California State University in 1991 and his M.D. from Hahnemann University in Philadelphia in 1995. After completing a three year Pediatric Residency and an extra chief resident year at University of California, Irvine (UCI) he entered private practice in Pediatrics initially in Long Beach and then Mission Viejo, California.

Prior to his ordination as priest, Fr. Mina Shoukry has served in at Saint Mark Church in Los Angeles, Saint George Church in Philadelphia, and Archangel Michael Church in Santa Ana as a Sunday School servant as well as a a deacon. He was ordained as archdeacon on April 28, 2007 at Archangel Michael church and as a priest on April 29, 2007 at Saint Peter & Saint Paul Church.
| | |
| --- | --- |
| Phone #: | (310) 394-3662 |
| Email: | This email address is being protected from spambots. You need JavaScript enabled to view it. |
---
Archdeacon Michael Ishak
Dr. Mounir has achieved the highest qualifications in Fishing Biology and Aquatic Sciences. He graduated with Ph. D. degree from the University of Washington, Seattle, WA. USA. He reached many top positions in his field in Egypt. He also represented Egypt in numerous international conferences.
After his retirement, he came to California and joined his family and became very active in serving The St. Peter and St. Paul Coptic Orthodox Church in Santa Monica, California. He served the church in many capacities, including becoming a member of the church?s board of trustees.

On Sunday, December 17th, 2000, H. G. Bishop Serapion ordained the deacon Dr. Mounir Mikhail Ishak, as the Archdeacon of St. Peter & St. Paul Coptic Orthodox Church. He was given the name: "Archdeacon Mikhail"

It gives me great pleasure to introduce Archdeacon Mikhail to our Coptic Community, a man who achieved the highest qualification in his civilian field and attained many high offices in Egypt before coming to USA. At the time he left Egypt, he was the Deputy Director of the Institute of Oceanography and Fisheries in Egypt. He was also the "Professor & Secretary General of this institute." (SFM)
| | |
| --- | --- |
| Phone #: | (310) 394-3362 |
| Email: | This email address is being protected from spambots. You need JavaScript enabled to view it. |